In this economic game from Denmark, you have to become the happiest player by finding the right work-life balance.
As we go through life, we often measure our success and happiness by the amount of wealth we have accumulated. However, studies show that having a lot of money does not necessarily bring more happiness. Instead, work life balance plays a more critical role in enhancing one's happiness.
It is all too easy to get caught up in the rat race and put in long hours at work to earn more money. But in doing so, we tend to overlook the importance of having time for ourselves and engaging in activities that bring us joy. At times, the pursuit of wealth can even lead to anxiety, depression, and stress, further diminishing our happiness.
That is where our board game Happy Nation comes in.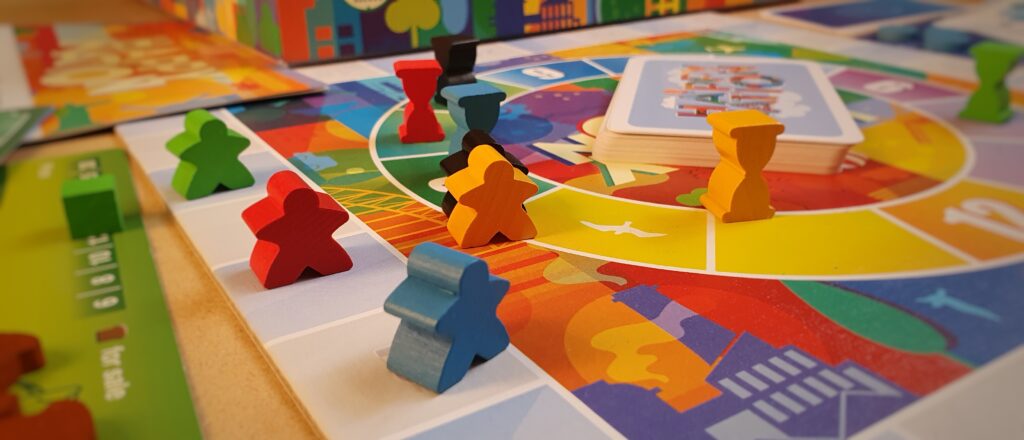 Our game is designed to help people find balance and happiness in their lives. It puts emphasis on the importance of self-care, taking care of loved ones and engaging in fun activities that make you happy.
Happy Nation teaches players the skills of time management and developing positive habits to promote a balanced lifestyle. Strategies include travelling, spending quality time with friends and family, finding enjoyable hobbies, and identifying ways to improve work-life balance.
---
What players say:
"Something completely new and different. A lot of fun." – Michael Durgunlar, MSc Economics
"How could you come up with this ? It is brilliant!" — Ingrid Grunnet, Psychologist
"I usually don't like board games, but this one was really fun !" – Yetkin Sari, Computer Graphics Expert
"This game is awesome! Had a lot of fun playing it. It has a bit from Monopoly and Settlers of Catan. Will definitely play it more often." — Sven Grest, Journalist
"Fun for the whole familiy ! Feel like a farmer, builder or entertainer and try to sell your goods. No game is the same." – Sarah Grunnet, Dr.med. Pediatrics
"Really fun game with interesting dynamics and a parallel to society, because the game explains how economy works on a simple level. " — Mikkel Gram, phd Artificial Intelligence
"An interesting game, that combines elements from strategy, fun and survival. I really like the idea and principle of the game. What do I use my time and money for ?" — Christiane Dopp, Lecturer
"I was laughing so much. Just keep giving me more money." — Kristine Slot, Project Manager